If there was a club for people who liked GIFS too much I'd probably be the one who organized the club, sends out the newsletters with GIFS, texts other members GIFS between meetings, I would DM GIFS on Facebook and would basically have full on conversations using ONLY GIFS! I'd also be the kind of person who wants to tell EVERYONE why GIFS are great and why you, as a photographer, should be using them to help boost your Google rankings, make your clients happy, and keep people coming back to your feed for more!
Below are my top 5 reasons GIFS are amazing and you should start using them right now.
1 – Clients Love Them
I started making GIFS because they were fun, I make them now because my clients ask for them (and because they are still fun). I'm not joking– clients will ask me if I'll be creating a GIF and putting it on the blog! Creating GIFS for your clients is a fun little keepsake that goes above and beyond the basic images they are receiving– it adds a little extra and brings them a little magic of the day you spent shooting them. Whether it's engagement shoots or weddings, a little GIF goes a long way. For the amount of bang you get for your buck, it is worth it to make them for your clients. Once you get used to making them, they require very little effort and the amount a client loves and shares them with their friends, spreading your word-of-mouth referrals, makes them an AMAZING ROI.
2 – They Add Context
I love making GIFS that show context so the person viewing the GIF can feel like they are right there in the moment, too. If you make a GIF that shows a waterfall that is in the images you were shooting, you'll give the reader a sense of the environment– how fast the water was moving, the colors it reflected while streaming down, and how majestic it was. You'll show the movement that you were trying to capture in a photo. Anything with movement, like dancing, running or walking is perfect for GIFS.
3 – They Add Interest to Your Blog Post
Yea yea yea, photos on a blog…. Scroll… more photos… scroll… more pho…WAIT… IT'S MOVING! WHAT KIND OF SORCERY IS THIS (more on that one later)?! That is literally the effect of adding GIFS to your blog posts. A GIF will stop people in their tracks, they demand attention (in the nicest way) and they draw people in. A blog post with a GIF is proven (in my experience) to produce more engagement. If I have GIFS in a blog post people are more likely to comment on the blog post or the social media post promoting the blog. Plus, adding GIFS to my blog posts also entices readers to keep coming back. They WANT to see what I made a GIF of this time!
My extra fun sneaky tip is to use a GIF AS YOUR header image! What a sneaky surprise to have a GIF when people are expecting a static photo. You'll catch people off guard and lure them in to see more!
4 – Up and Up your SEO goes!
If you're all about SEO or pay attention to Google Analytics, you know the importance of bounce rates. Basically, for those who maybe aren't too familiar, the higher your bounce rate, the more people are coming to your post and leaving quickly. The lower your bounce rate, the better. So how do you get people to stay on your website longer to lower your bounce rate? GIFS are the answer. When you have a GIF on your blog post, people will stop scrolling and they will watch the GIF 8-10 times in a row. With every watch, they are spending more and more time on your blog post. Google rewards you if more people spend time on your page so add those GIFS and you'll have viewers sticking around and decreasing your bounce rate!
5 – They are MAGICAL
By now you know I love (read: am over-the-top obsessed with) Harry Potter. GIFS remind me of the moving pictures in Harry Potter. You're going about your day, reading the newspaper and BAM! Sirius Black is acting like a madman in the paper in front of you! It's the same effect… just… happy and emotional and adorable when it comes to GIFS in the wedding photography world.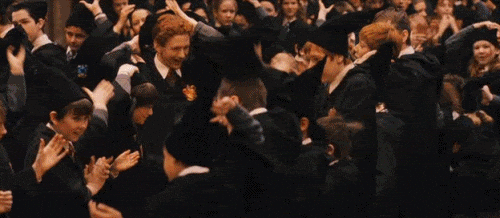 GIFS are more than hilarious moments in time saved from our favorite movies and TV shows made to give us a laugh. They can impart a magical feeling of love, joy and emotion when done right and well for your clients. A GIF can make a moment last forever and can really bring your clients back to the exact moment it happened as you captured every little subtle nuance that makes them who they are.
If you're ready to jump into the world of GIFS, I have exactly what you need. After copy and pasting random information and sending haphazard screenshots to people who would ask me how to make GIFS, I decided to do things right! I put together a GIF COURSE that is now available on my website! This course will teach you about the two different kinds of GIFS, how to make them AND how to share them (which tends to be the more tricky part). Grab the course HERE!